TalkAwhile
An Acoustic Music Forum
Welcome to TalkAwhile.

We were initially brought together by Fairport Convention and the Cropredy Festival, but have expanded to cover many artists and festivals.

It's a lively and welcoming forum, with about 1000 readers every day.
We have a great motto "It's nice to be nice". If you are a 'newbie' you will be welcomed and encouraged to post.

The board is moderated, but we don't censor peoples views, only really bad behavior, such as personal attacks.

We have a regular guest artists, who answer questions and join in discussions.
Each year we have the 'Hancock' awards (aka 'Not the BBC Folk Awards') where members can vote and handsome trophies are presented.
There is also 'TalkAwhile Live' where members organise concerts.

Please come in and have a look around.
If you like the look of the board, please register. The sign on agreement is short, so please read it.

---
Please Click Here To Enter The Forum
---
If you want to know more about the board please Read the FAQ
---
A lot of the board members are regular festival goers, so will also maintain a list of this years Festivals
---
The Hancock Awards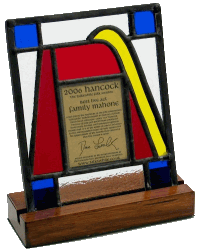 The Hancock awards started in 2004 as a straightforward vote on the BBC Folk Award nominations.

This proved so popular that the following year the idea was expanded, with the board members making an extra nomination in each category and some handsome trophies being made.

Why a 'Hancock'? It was named in memory of Carey "Ces' Hancock, a founder member of Talkawhile and an enthusiastic supporter of all music. Ces was specifically fond of Dave Swarbrick who in return has accepted the status of being Honorary President of the awards.

---
(c)2008 C Edwards